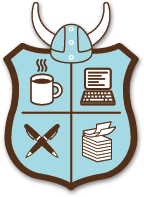 Click the above image to visit the NaNoWriMo homepage!
National Novel Writing Month (or NaNoWriMo for short) is an annual challenge to write 50,000 words of a first draft of a novel during the month of November. That's 30 days to write as fast as you can to get your novel out of your head and onto the page!
The beauty of National Novel Writing Month is in its community. If you've ever tried writing something as daunting as a novel, let alone a novel in a month, you know it's nearly impossible without support. With NaNoWriMo, the support is fellow novelists competing to complete the same challenge you are! They know what you're going through. They have the same struggles. They have the same victories. While writing is a fairly solitary process, NaNoWriMo helps pull writers out of the shadows and into the coffee shops and libraries of their local regions.
After hearing about NaNoWriMo from a cousin, Benjamin M. Weilert decided that it would be a fun challenge and signed up to take part in 2010. Upon completing his novel, he decided it was fun, but he didn't want to do it again. That was, until he started editing his story and began to see that there was potential for a second novel . . . and a third. Pretty soon, he had a list of novels he wanted to write. Right now, the list will keep him writing for the next twenty years!
In 2014, after four years of participating in NaNoWriMo, he made the decision to step up into a leadership role. As the Municipal Liaison for the Colorado Springs region, he is in charge of setting up Kick-off and "Thank God It's Over" parties, as well as the variety of writing events during the month of November where the local writers can get together to write their novels.
Each year he has participated, Benjamin has tried to push himself to write faster and write more than he ever has before. In 2013, he completed the 50,000-word challenge in 10 days. In 2014, he wrote more than he ever had before. In 2015, he wrote an astonishing 123,456 words in those 30 days.
If you also write during NaNoWriMo and would like to add Benjamin M. Weilert as a writing buddy, don't hesitate to add him by clicking this link.