At the beginning of 2019, I set forth all the goals I had for this year, so now it's time to reflect and see if I did everything I wanted to. If you're following any of the posts I've made over the year, this might look familiar. If you've missed some of these announcements, this post is a handy recap of the content I released in 2019. So, without further ado, here's the . . .
2019 YEAR IN REVIEW
Cinema Connections
Having re-released my first trilogy in 2017 and my memoir in 2018, I kept the streak alive this year by publishing my fifth book, Cinema Connections: a never-ending "6 Degrees of Kevin Bacon" at the end of September. Here's an unboxing video for the paperback and hardcover versions:
A passion project of mine that's lasted almost seven whole years, Cinema Connections is the collection of the 400 posts I wrote for my blog of the same name that finished at the end of August this year. I added in other notes and an index of the ~2,000 movies referenced in the blog's lifespan to make the book version a comprehensive cross-reference. I've found my knowledge of connections between movies to be handy in recommending them to friends and family, so maybe you might find your next favorite film via this book. It's available in paperback, hardcover, and Kindle eBook.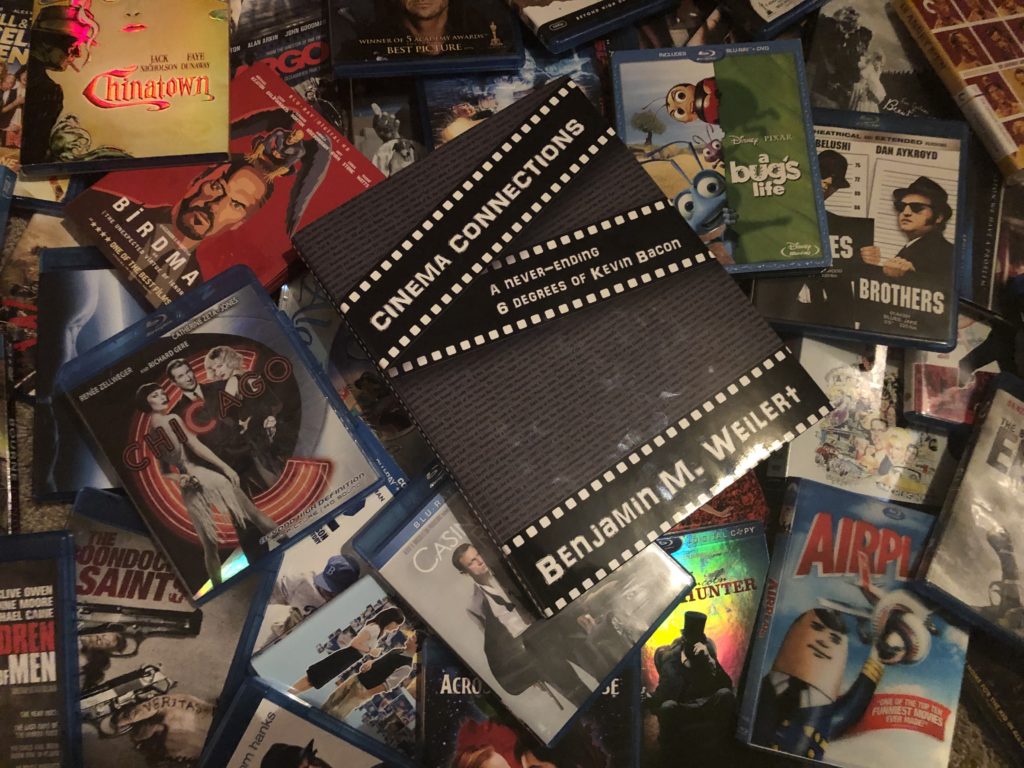 Crossing Borders (From c² Shining c)
In late August, I was surprised to learn that my short story, From c² Shining c, made the shortlist for Lulu's "$5k for 5K" contest. While I didn't win the cash prize, my story was included with 19 others in Lulu's Crossing Borders anthology. My take on the theme was to explore what it would be like to be the first person to break the "speed of light" barrier. The Crossing Borders anthology released at the end of August and is available in paperback and ePub eBook formats.

This is Not a Drill
What was once a "secret project" born out of a Facebook post I made in 2017, I wrote and illustrated This is Not a Drill this summer during July's Camp NaNoWriMo. I plan on querying some agents early next year to see if I can get it traditionally published. If not, expect me to self-publish by the end of 2021.
Dreamer's Promotion
It's weird to think that I've written ten books via National Novel Writing Month (NaNoWriMo). This year, I wrote the sequel to last year's The Slumberealm Gambit. Dreamer's Promotion reached the 50,000-word goal in nine days (much like last year's project), and I finished the story a few days later. This trilogy is currently quite a few years out from being published, so be sure to sign up for my newsletter so you'll know when it comes out.
Writer Rant
A shorter Season 3 of my vlog, Writer Rant, wrapped up the series at 100 episodes in May. The full series is available on YouTube, with links to each of the three seasons here: Season 1 | Season 2 | Season 3.
If you want to watch all 100 episodes, you can check out the playlist below:
Buried Colony
After a solid few months of querying this book, I received no interest from any of the agents I contacted. It seems that Hard Science Fiction is perhaps a little more difficult of a niche to publish, even with the success of The Martian. Still, I remain undeterred. After dropping the "The" from the title and working on a new cover, I plan on hiring an editor and undergoing some final polish before self-publishing next year.
Blog Posts
Much like my Writer Rants, I have written several blog posts on this website intending to help any authors who might be starting out. Here's a listing of this year's topics:
Thanks to everyone who has enjoyed my content this year. Just like in 2018, I promise that next year will have quite a few exciting things planned, even if they're somewhat limited due to my new responsibilities as a father. Come back in January, and I'll explain the details of what's to come!